We zijn weer thuis. Heerlijk.
2 Dagen in Shenzhen doorbrengen, althans voor mij, kost aardig wat energie. Ik heb natuurlijk weinig te doen daar. Ik verveel me dood. En de websites die ik leuk vind zijn allemaal geblokt in China. Dat schiet dus niet op. Ook heb ik mijn gehaakte deken waar ik erg druk mee was, in een hoek gegooid. Hij liep steeds verder taps toe en dat is niet de bedoeling. Uithalen is geen optie omdat elke toer in een andere kleur is dus weg ermee. Plus dat door het hete en vochtige weer, het geen pretje is om te haken. Alles plakt aan je vast.
Het is niet allemaal een ramp hoor, begrijp me niet verkeerd. Het blijft leuk om het hotel in te lopen en dat iedereen je begroet omdat ze je herkennen. We krijgen elke keer dezelfde kamer, krijgen vaak dezelfde tafel in het restaurant en de chauffeurs herkennen ons ook. Soms krijgen we een nieuwe die dan de weg niet zo goed weet. We komen er wel maar het duurt alleen wat langer. Zo ook de laatste keer, chauffeur reed verkeerd op de snelweg, dus hup in zijn achteruit op de snelweg om de juiste afslag te nemen. Dat pakte ook niet zo goed uit want ineens zaten we op een snelweg in aanbouw. En die stopte ineens. Dus hup weer draaien op de snelweg en tegen de richting in weer een andere snelweg op. Je moet echt wel een groot hart hebben om al dat soort grappen te weerstaan.
Vrijdagmiddag zijn we een uurtje eerder weg gegaan dan gepland. Het weerbericht gaf aan dat er enorme onweersbuien werden verwacht en iets noordelijk van Hong Kong was in 1 dag meer dan 250 mm regen gevallen. Nou ben ik niet bang voor regen maar wel bang voor de rijvaardigheid van onze chauffeurs. Dus we namen het advies serieus. Ga een uurtje eerder naar huis, zei een collega. Als je eenmaal over de grens bent, dan komt het wel goed. Dus zo gezegd zo gedaan. Om 4 uur vertrokken we bij een grijze lucht. Gelukkig begon het pas te regenen toen we onze straat in Tsim Sha Tsui inreden. Dat is plannen!
En toen barstte het los. Godzijdank. Want de laatste week is het vies heet in Hong Kong. En in Shenzhen is het nog heter! Nou kan ik best tegen de hitte maar waar ik helemaal naar van wordt is de hoge luchtvochtigheid. Alles plakt aan je lijf. Het is benauwd en in de fabriek zijn er maar weinig plekken waar je even bij kan komen van de hitte. Naar de wc gaan aan de andere kant van de fabriek waar geen airco is, is werkelijk een crime. Je broek zit vacuüm getrokken aan je benen en omdat ze daar van die heerlijke hurk-toiletten hebben, is het een gevecht om je broek 1) naar beneden te krijgen en 2) weer omhoog te doen!
Ik zag een artikel van de Huffington Post voorbij komen op Facebook. En het is zoooo herkenbaar!
23 Ways Humidity Is Making Your Life A Living Hell
Do you recall only a couple months ago when you were so sick of the cold weather? Well, Mother Nature finally listened to all your complaining and now she is gifting us with the pleasure of extreme heat and unbearable mugginess (also known as summer).
You should have been more careful about what you wished for. The sun is (mostly) great. Humidity is not. And judging from the way this summer is starting out, know you've got a lot of sticky, oppressively hot days ahead of you. So, get ready to sweat through these 23 uncomfortable situations all summer long, and welcome to humidity hell.
1. Humidity makes you toss and turn in your sleep until you just resort to this: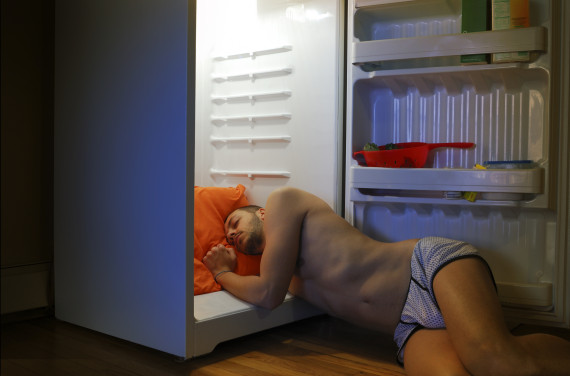 Not the most energy efficient solution, but at this point, who cares?
2. It turns your sheets into Saran Wrap.
They will stick to you like glue. Then you will strip them off, along with the rest of your clothes.
3. It makes you, for once, not care that your shower doesn't get hot water.
A cold shower offers you brief respite from the humidity. Just pretend that it's actually your choice.
4. Why should you put deodorant on when your pits are already sweating?
You can't stop the sweat. You can only hope to contain it.
5. Thanks to humidity, blow-drying your hair turns your bathroom into an Amazonian jungle.
And it takes three times as long because you absolutely refuse to use hot air.
6. It instantly turns your hair frizzy the second you walk outside.
Next time, you won't even bother with blowdrying your hair.
7. Humidity makes it virtually impossible to put on makeup.
A wet, sticky face is not the best palette for a smooth eyeliner glide.
8. It makes your office clothes feel like a heavy prison dragging your body down.
Your workplace has a pretty relaxed dress code, but unfortunately, showing up naked is not allowed.
9. Thanks to humidity, now you never want to sit down on the subway.
Because then you will have to peel your sweaty ass off the seat.
10. But even standing and trying to grasp your sweaty hand on the subway pole proves futile.
You can feel the sweat pooling in the cup of your hand, and now you look crazy as you constantly switch hands to get a firm grip.
11. Humidity gives you that back of the leg sweat.
Every time you walk, your leg sticks together at the knee.
12. And that scalp sweat.
You never knew your head could emit so much liquid.
13. Don't forget those armpit sweat stains.
These are just classic.
14. It gives you those chest sweat stains.
Sometimes you sweat so hard that your chest stain bleeds into your armpit stain.
15. Humidity introduces you to belt sweat stains.
You know, when there are those lines of sweat right below and above where your belt is cinching your skin.
16. It is sure to provide that stinging sensation in your eyes as the sweat drips into them.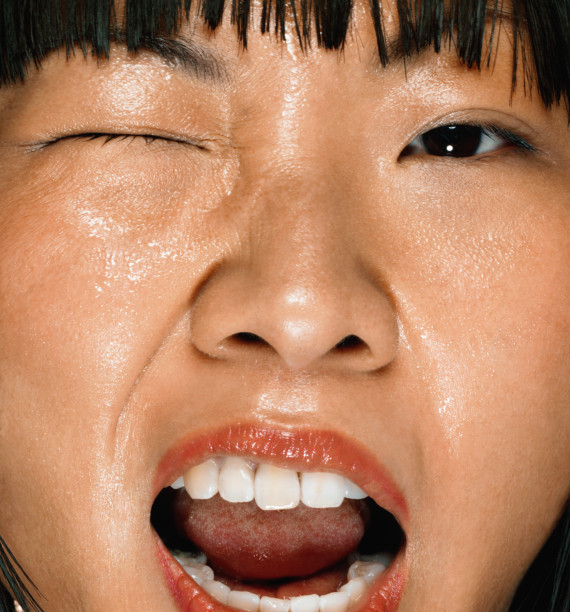 It burns!
17. And you can guarantee humidity will give you that strong taste as your sweat seeps into your mouth.
Tasty.
18. It makes sure that even if you walk very slowly, you'll still arrive somewhere with a fully sweat-drenched back.
This is a surefire guarantee.
19. It makes sure you cannot escape beads of sweat all over your face when you arrive at your destination.
Nope, you did not run here.
20. Effectively, humidity surrounds you with that sticky wet feeling that covers literally every single pore on your body at all times.
It's like another layer of skin. A sweaty, hot, wet one.
21. Humidity causes you to be a bit repetitive when you greet people.
"It's so hot outside!" is now always the first thing you say to anyone and everyone.
22. But at least it allows for that rejuvenating feeling of walking into air conditioning after being outside for, like, one minute.
Pure bliss.
23. And it gives you a new favorite pastime: Staring directly into the A/C or fan for a good ten minutes to cool off every time you get home from going anywhere.
Ahhhhhh. That's much better.